Highlights
Family Ties Bring Triplets to Lott Institute

Sophia, Calvin, and Isabella Sanders were drawn to the University by recent graduates (and triplets) Ann Weston, Katherine, and Will Sistrunk. Ann Weston and Katherine are members of the Lott Class of 2019. We are so excited to have Sophia, Calvin, and Isabella as students in the Lott Institute! You can read more about the Sanders siblings here.
Public Policy Leadership Class of 2023
2019 PPL/Lott Summer Program Hebrew University, Israel
PPL CLASS OF 2019 GRADUATES
See below the Senior Newsletter from the Lott Advisory Board
Congratulations to our PPL students, Levi Bevis, Edward Miller, and Mallie Imbler, who were inducted into the 2019 Hall of Fame!
The 2019 University of Mississippi Hall of Fame. Pictured are (front row, from left) Blair Wortsmith, of Little Rock, Arkansas; Makala McNeil, of Grenada; Mallie Imbler, of Tupelo; Jaz Brisack, of Oxford; Skylyn Irby, of Batesville; Randon Hill, of Oxford; (top row from left) UM Provost Noel Wilkin; UM Vice Chancellor for Student Affairs Brandi Hephner LaBanc; Jarvis Benson, of Grenada; Levi Bevis, of Florence, Alabama; Elam Miller, of Murfreesboro, Tennessee; Jacob Ferguson, of Randolph; UM Interim Chancellor Larry Sparks and UM Assistant Vice Chancellor and Dean of Students Melinda Sutton Noss. Photo by Thomas Graning/Ole Miss Digital Imaging Services.
Congratulations to our 2019 Taylor Medal Recipients!
Jeff Becker, Jackson Colburn, Harrison Durland, Hallie Gillam, Julia Grant, Mallie Imbler, and Ann Weston Sistrunk
Congratulations to Barron Mayfield for being elected ASB President for the 2019-2020 school year!
See below the November Newsletter from the Lott Advisory Board
Homecoming 2018
Chauncey Mullins, Mr. Ole Miss
Hallie Gillam, Homecoming Queen
Sloane Reid, Junior Maid
Congratulations to our 2018 Mr. Ole Miss, Chauncey Mullins!
Congratulations to our 2018 Homecoming Queen, Hallie Gillam!

Congratulations to  our 2018 Homecoming Junior Maid, Sloane Reid!
Congratulations to  our 2018 Campus Favorite, Evan Dean!

See below the September Newsletter from the Lott Advisory Board
2018-19 Lott Leadership Institute Student Advisory Board
2018-19 Lott Leadership Institute Ambassadors
  Public Policy Leadership Class of 2022
Dr. Chen was appointed as honorary professor at North China University of Technology in Beijing, China.
2018 PPL/LOTT Summer Program in China

Three Liberal Arts Professors Honored for Excellence in Teaching
Award recipients come from fields of classics, public policy leadership and modern languages
Three University of Mississippi professors were honored Friday (May 11) by the College of Liberal Arts for their excellence in teaching.
Nidhi Vij Mali, assistant professor of public policy leadership, received the Howell Family Outstanding Teacher of the Year Award. Named after alumni donors Dr. Norris Howell and Lynne Thomas Howell, both of Ripley, the endowment provides funds to recognize the outstanding teacher of the year within the college.
"We commend Ms. Kaufmann, Dr. Pasco-Pranger and Dr. Mali for their outstanding dedication to teaching and service to our students," said Lee Cohen, UM liberal arts dean. "These awards symbolize the importance of teaching excellence to our college's mission. It is an honor and a privilege to recognize this year's recipients."
Each of the recipients expressed gratitude for their recognition:
"The award is fuel for encouragement, appreciation and gratitude," said Mali, who joined the university's public policy leadership faculty in 2016. "It gives me confidence in what I do every day and grateful that the students appreciate it.
"To have received the award within the second year of my teaching, it has been a very humbling experience."
Recipients also shared their philosophies of teaching:
"My students and their words of appreciation for the efforts that we put in as teachers are what are most rewarding for me," said Mali, who also received the Outstanding Teaching Assistant Award from the Syracuse University Graduate School in 2016 while earning her doctorate.
Nomination letters noted why each recipient deserved her award:
One writer who nominated Mali wrote, "She does more than just go above and beyond. Besides her amazing teaching abilities, Dr. Mali's personality inspires me and other students to be the best version of ourselves."
Another of Mali's nomination letters said, "she made herself available to me 24/7 to get help. She learned more about me as a person and my home life than anyone else at the university."
  Congratulations to PPL minor, Jaz Brisack for being awarded the Truman Scholarship! Also, congratulations to Allen Coon, PPL Major, as being named a Truman Scholarship finalist!
Congratulations to 3 PPL students who were named into Ole Miss Hall of Fame: Allen Coon, Austin Spindler, and Savannah Smith!
Congratulations to Elam Miller for being elected as the Associated Student Body's President, Cady Cooper for winning the Secretary, and Alex Crouch winning Judicial Council Chair 2018-2019 school year!
Congratulations to Katherine Sistrunk for being elected as the Associated Student Body's Attorney General for the 2018-2019 school year!
Annual Awards Program Honors UM Faculty and Students
HEADWAE recognizes academic achievement, contributions to higher education
John M. Ridoldi (left), professor of medicinal chemistry and environmental toxicology, and Dion Armstrong Kevin III, a senior from Oxford, are among the recipients of awards in this years HEADWAE progrm.
University of Mississippi students and faculty were among the honorees at the 31st annual Higher Education Appreciation Day-Working for Academic Excellence, or HEADWAE, awards program Feb. 20 in Jackson.
Dion Armstrong Kevin III, a senior from Oxford majoring in public policy leadership, and James Robert Ware II, a fourth-year medical student, were the university's student honorees. John M. Rimoldi, professor of medicinal chemistry and environmental toxicology, and Molly Moore, assistant professor of nursing at the UM Medical Center, were the faculty representatives on the awards program.
"I was pleasantly surprised to find out that I would be honored with this award," said Kevin, Associated Student Body president. "It's a special experience to know that some of the state's most esteemed public servants recognize my contribution to higher education as a student.
"It gives me confidence to keep working toward the betterment of myself and higher education in Mississippi."
Moore said it is a great honor to represent the Medical Center.
Three of a Kind: Sistrunk Triplets Inducted into Phi Kappa Phi Honor Society
By Christina Steube, Ole Miss News
The University of Mississippi chapter of Phi Kappa Phi honor society inducted 270 new members Sunday (Oct. 29), including three juniors from the same family. Ann Weston, Katherine and Will Sistrunk, triplets from Springfield, Missouri, were inducted into the most selective interdisciplinary honor society at the university. All three are members of the Sally McDonnell Barksdale Honors College. "The invitation to be a member of Phi Kappa Phi is a great accomplishment and it is especially exciting to be inducted with my siblings, as I owe much of my success to the guidance and support of Katherine and Will," Ann Weston said. Ann Weston is a public policy leadership major and is seeking minors in Spanish and intelligence and security studies. She plans to pursue a career in global health policy upon completion of graduate school. Also a public policy leadership major and a pre-nursing student, Katherine is minoring in Spanish and society and health. She wants to combine her love for public policy with a career in a health-related field. Will is majoring in biology and pursuing minors in chemistry and society and health. He plans to attend medical school after graduating from Ole Miss. "Being nominated for Phi Kappa Phi is an awesome honor and reward for me academically," Will said. "It also is a reflection of the great opportunities I have had at Ole Miss, from advising in the Honors College to meeting with professors who are always willing to help. I am excited for all that Phi Kappa Phi has to offer." To receive an invitation to join Phi Kappa Phi, juniors must have completed at least 72 credit hours and rank in the top 7.5 percent of their class. All three made the cut. Deb Wenger, Phi Kappa Phi chapter president and assistant dean for partnerships and innovation in the Meek School of Journalism and New Media, said this is the first time she is aware of triplets inducted into any chapter of Phi Kappa Phi.The Sistrunks come from an Ole Miss family. Their parents, William and Camille Sistrunk, are university alumni and Mississippi natives, and when it came to the three choosing a college, UM was always a consideration. "As we were considering colleges, we initially had varying ideas on where we wanted to go and what we wanted to study," Katherine said. "At first, I thought it was a definite possibility that we would end up at different schools. But, as we continued to visit other universities, Ole Miss kept calling us back. "Ever since we were little, we have called Mississippi our second home. Ole Miss has brought us friendships and memories, and we ultimately chose Ole Miss because it was not only where our family went to school, but because it felt like home." UM was where the three siblings felt most comfortable and could each pursue the major of their choice. "We are all very close but independent and different in our own ways, and it was a great thing that we each decided Ole Miss was the right place for each of us," Katherine said. "Aside from Ole Miss having so many outstanding academic and extracurricular opportunities in which to participate, choosing Ole Miss was like coming home, and I couldn't image what my college experience would have been like without my family by my side." But it wasn't just the culture and the legacy aspect that drew them in. The Sistrunks said the scholarships offered through Ole Miss were the most generous of any institution to which they applied. "Ole Miss has been everything we expected and much more in providing an excellent academic environment in which our kids are thriving, and we are very grateful for that," the triplets' father, William, said. "We are excited that they are planting roots in Mississippi." The university has since allowed each of them to academically perform to the best of their abilities. "I am motivated to achieve by the desire to one day be able to be a successful professional and say that I am an alumni of the University of Mississippi, and with that, hopefully give back to the university that has given me so much," Ann Weston said. Ultimately, their independent achievements allowing them to come together in Phi Kappa Phi has made the family closer than ever. "To me, my sisters being at the same college has been a great resource and comfort," Will said. "I wouldn't be where I am now without them. However, I know wherever they go, they will succeed."Their mother, Camille, agrees. "My husband and I are very proud of Ann Weston, Katherine and Will," she said. "We are very blessed that they are happy and healthy kids and students who have always academically challenged themselves and each other."
Senior public policy leadership major Christina Lawler is Ole Miss' 2017 Homecoming Queen! She's pictured with Hal Moore, president of the Ole Miss Alumni Association.
Congratulations to PPL Student Savannah Smith for being named 2017 Miss Ole Miss!
Congratulations to PPL Student Christina Lawler for being named 2017 Homecoming Queen!
PPL Class of 2021 Orientation

Summer 2017 Lott & PPL Study Abroad in Pachuca, Mexico!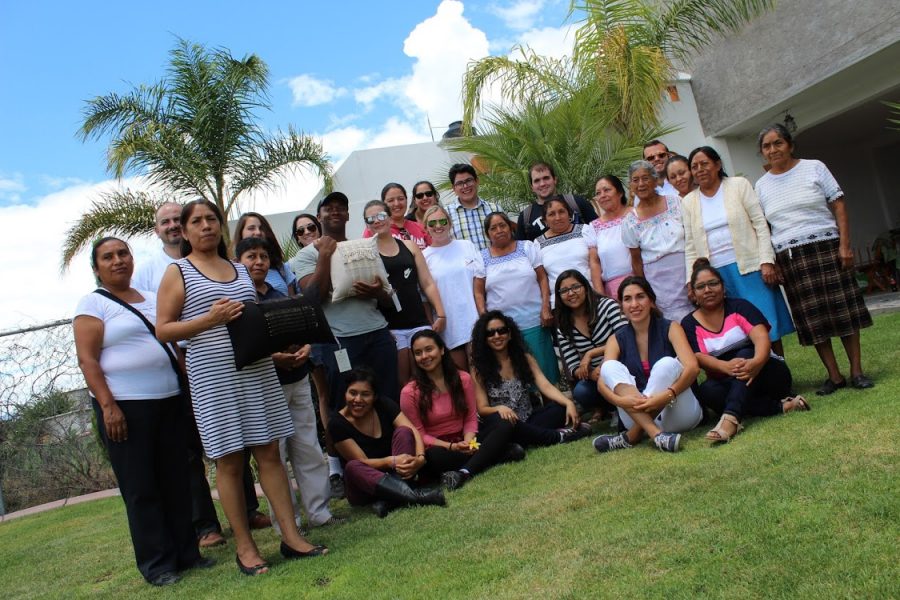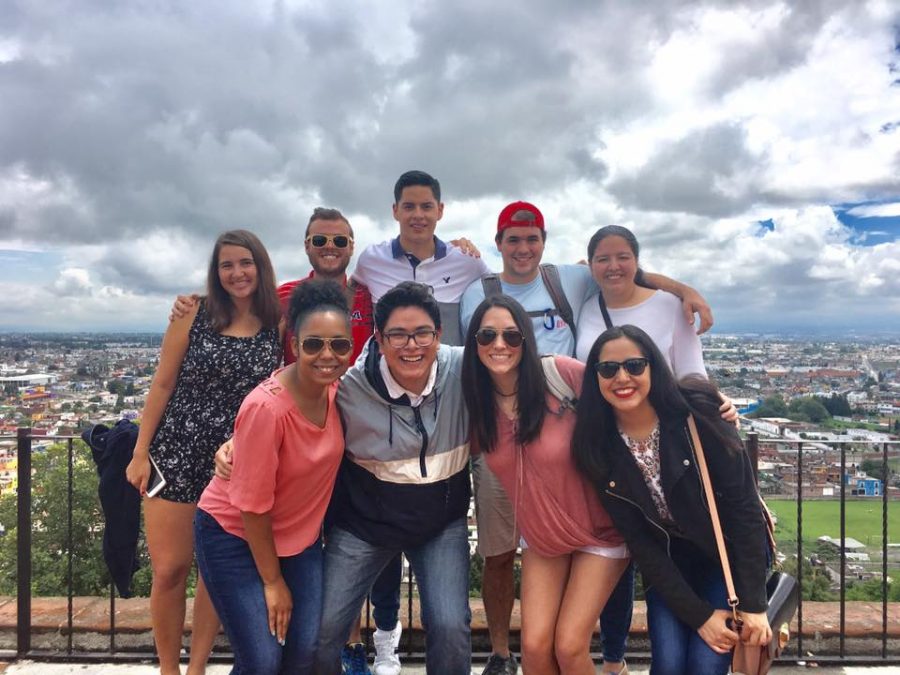 Congratulations to PPL Students Austin Powell, John Brahan, and James Rowland-Marcos on their induction into the 2017 Hall of Fame.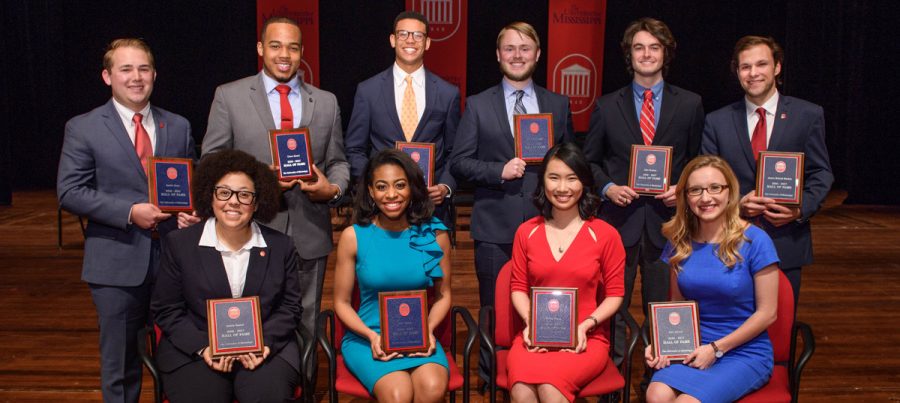 Congratulations to PPL Student Dion Kevin for being elected ASB President for the 2017-2018 school year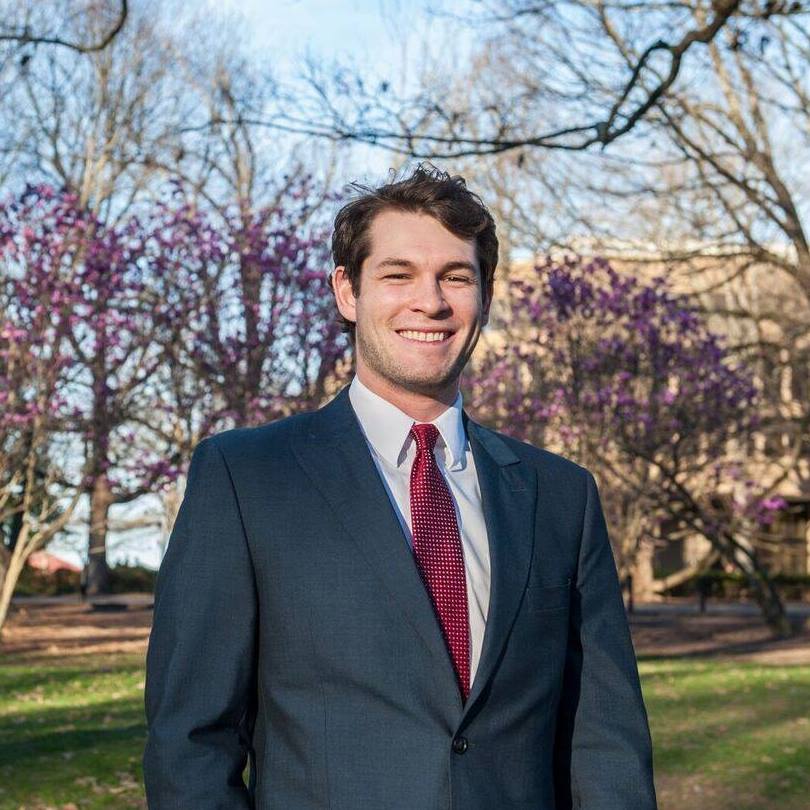 Public Policy Leadership Students in Policy Advocacy Class Working With Mississippi State Governor and State Legislators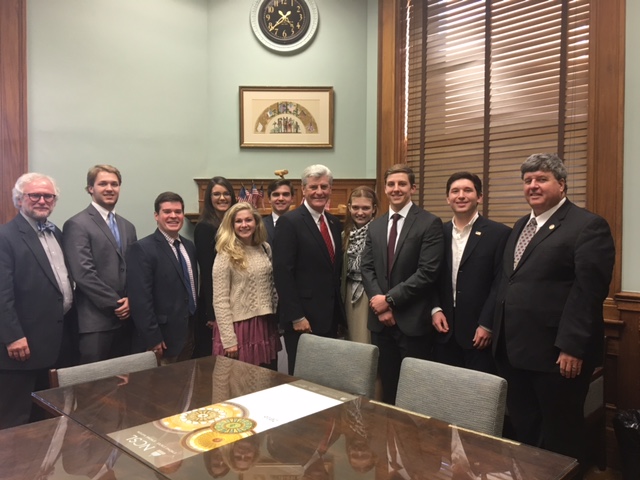 PPL Students With MS State Governor Phil Bryant and Representative Snowden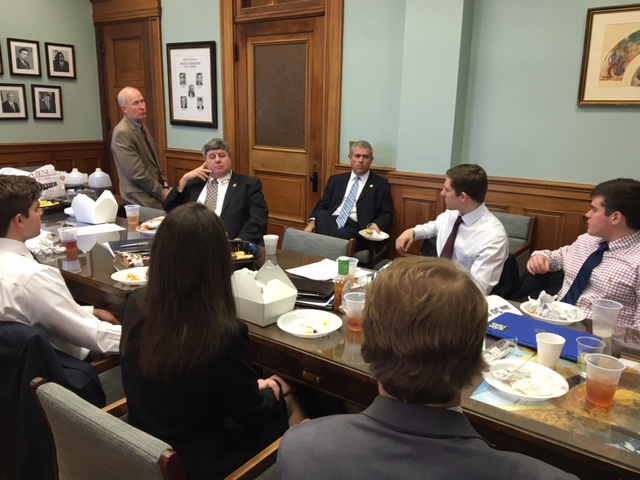 PPL Students With MS House Speaker Phillup Gunn and House Clerk Andrew Ketchings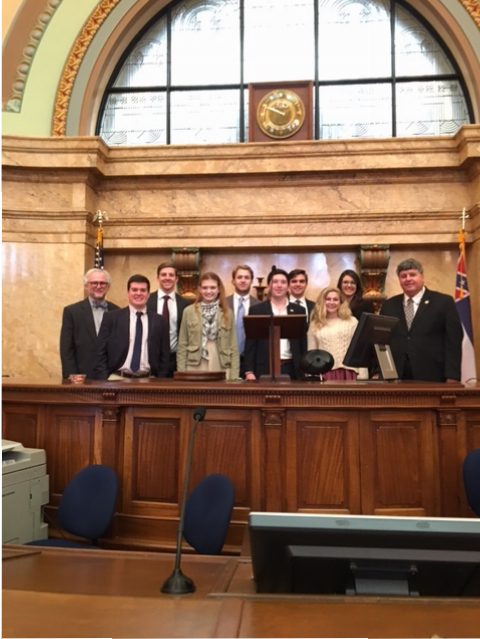 PPL Students in MS House Chambers
PPL Students With House Education Committee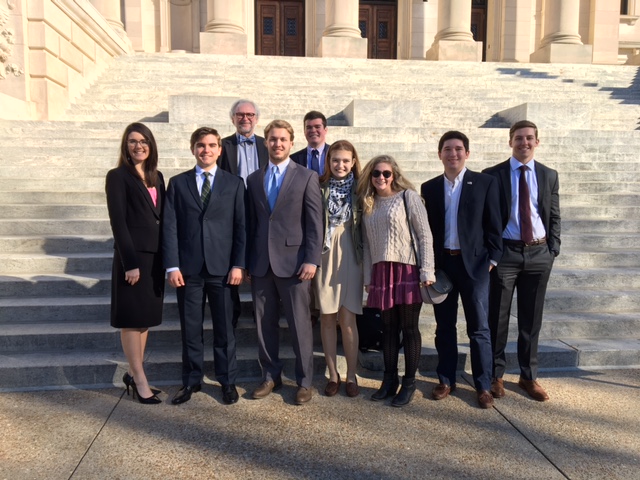 PPL Students in Front of MS State Capital
Summer 2016 Lott & PPL Study Abroad in China